A Year In The Life of a Sports Fan – 2/9
Once the Superbowl passes, there is a void; a seemingly endless emptiness in the sports world that just cannot be occupied by the last third of NCAA Men's Basketball conference play, the grind of the NBA schedule, or the borderline irrelevant NHL. There's hope on the horizon, though.
On February 11th, pitchers and catchers can voluntarily report to spring training, and all will be briefly right in the world – sports and otherwise.
I can be a man of rampant contradictions. I was raised (and continue to be a practicing) traditional Southern Baptist, but my favorite songs were penned by Waylon Jennings. I'm a comic book nerd whose favorite character is Green Lantern, but I recognize Superman as the greatest American pop culture creation ever. I work out at Crossfit and have tried to clean up my eating habits, yet I'm eating Peanut Butter Crunch as I type this. I live and die with the Atlanta Falcons, but am emotionally attached to the entire sport of baseball like no other sport.
Maybe the connection was made by playing catch with dad for hours at a time in the long, narrow stretch of yard beside the house I grew up in. It's possible that the thrill of opening a box of baseball cards desperately in search of a Jose Canseco Rookie Card that never appeared (until Christmas morning – thanks, dad) was enough to hook me. Maybe it was sitting on my late grandfather's lap while the Braves were wearing their powder blues on Superstation TBS and watching Bob Horner and Dale Murphy smack home runs out of Fulton County Stadium, or those same Braves shaking off the chains of underachievement in the 1990′s and truly becoming "America's Team" for a while. Whether on TBS or on the radio, I followed them religiously. So did my father and my grandfather.
Pops is more photogenic than me.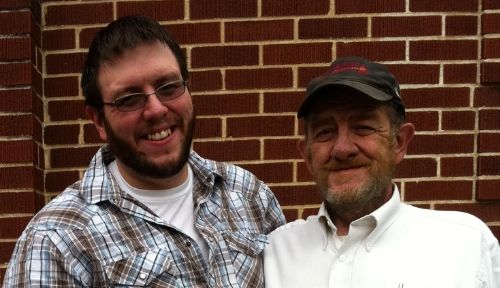 The sounds of baseball over the last 33 years are etched in my brain. It sounds like the ping of an aluminum bat swung clumsily by a five year old. It sounds like the pop of a glove after I hum a ball from third to first. It sounds like my own muttering after I strike out. It sounds like the crack of a Louisville Slugger at the first MLB game I ever got to see. It sounds like the fireworks at Great American Ballpark. It sounds like Skip Caray screaming like a lunatic as Sid Bream slides into home. It sounds like Marty Brennaman saying pretty much anything. It sounds like my grandfather asking me on the telephone if I think Bobby Cox can pull the Braves out of a funk, and my grandmother commenting about how Ryne Sandberg seems like a nice young man. It sounds like "Centerfield" by John Fogerty.
Football is visceral. It is instant gratification. It is loud and brash and goes to every excess imaginable. With only 16 games to determine postseason fates, there is incredible pressure with every week. There are collisions and injuries and it is loud and it is demanding. When it's gone, you notice it.
Baseball slips in quietly, with manners. Games fill up summer afternoons and spark conversations. Fans watch for moments and events like walk off home runs and perfect games. The game, like the season in which it is played, carries a lazy grace that cannot be duplicated or manufactured. Day after day, week after week, month after month, baseball just strolls along so slowly that you barely notice that it's early October and baseball is almost gone. That's the catch.
Baseball pulls us in because it's a snapshot of us. When October rolls around I miss the hope and promise of April, when anything seemed possible. It seemed like just yesterday, but so impossibly far away at the same time. At age 33, I miss playing catch with dad and talking baseball with my grandfather. My grandfather passed on a little over a year ago, and the last 15 months for dad have been spent trying to kick cancer's ass (and doing a pretty good job of it). I can't rewind the years and live those experiences again. But every spring, baseball comes back around and puts a smile on my face by dredging up the best memories of summers past.
Play ball.